Otosan Throat Gel Forte
Regular price
Sale price
£9.49 GBP
Unit price
per
Sale
Sold out
OTOSAN® Throat Gel Forte

Speedy relief from throat irritation.
Otosan® Throat Gel Forte comes in easy-to-use stick packs. It promotes the wellbeing of the throat in case of irritation and hoarseness. Thanks to its special gel formulation, it forms a mucoadhesive film, which protects the mucosa from the irritating action of external agents, providing long-lasting relief. It also favours the hydration of the mucosa, indirectly reducing irritation and the sensation of pain.
Otosan® Throat Gel Forte is useful for:
Throat irritation

Burning or painful swallowing

Hoarseness, also associated with dry cough

Dryness of the oropharynx caused by external agents or environmental factors (smoking or sudden changes in temperature and humidity).

 

 
Composition: The special gel formula of Otosan® Throat Gel Forte combines the emollient properties of Iceland Moss extract and Hedge Mustard extract with the mucoadhesive properties of Arabinogalactans from Larch. Lemon (organically grown), White Thyme, Eucalyptus and Peppermint essential oils give the product a refreshing, citrusy and balsamic aroma. The Otosan® Throat Gel Forte formula is also enriched with honey and is Gluten-free.
How often should it be used?
We recommend taking 2-3 stick packs per day in the initial stage of treatment, and 1-2 stick packs in the later stages.
To allow the product to exert its action to the fullest, you are advised not to eat or drink for at least 30 minutes after taking the product.

Which symptoms is it suitable for?
It is suitable as an adjuvant treatment to relieve the symptoms associated with throat irritation, loss of voice, painful swallowing, burning and dryness of the oropharyngeal mucosa. Thanks to its special gel formula, Otosan Throat Gel Forte creates a film with a barrier effect on the irritated mucosa, which protects, moisturises and soothes the irritated mucosa.


Ingredients: Aqua, Cetraria Islandica dry extract, Arabinogalactan from Larix, Sisymbrium officinale glyceric extract, Sorbitol, Fructose, Xanthan gum, Menthae piperitae essential oil, Eucalyptus globulus essential oil, Citrus Limon essential oil*, Thymus Vulgaris Leaf essential oil, Honey, Citric acid, Potassium sorbate. *Bio/Organic
Does it have any contraindications?
Do not use for children under the age of 1 year. Carefully read the instruction leaflet before use.
Do not exceed the recommended daily amount. Store in a cool dry place. Keep out of reach of children. Foods supplements should not be used to replace a healthy diet and lifestyle.
14 sticks x 10ml

Please note: new pack designs will be filtering through in the next few weeks so product packaging may differ.


Share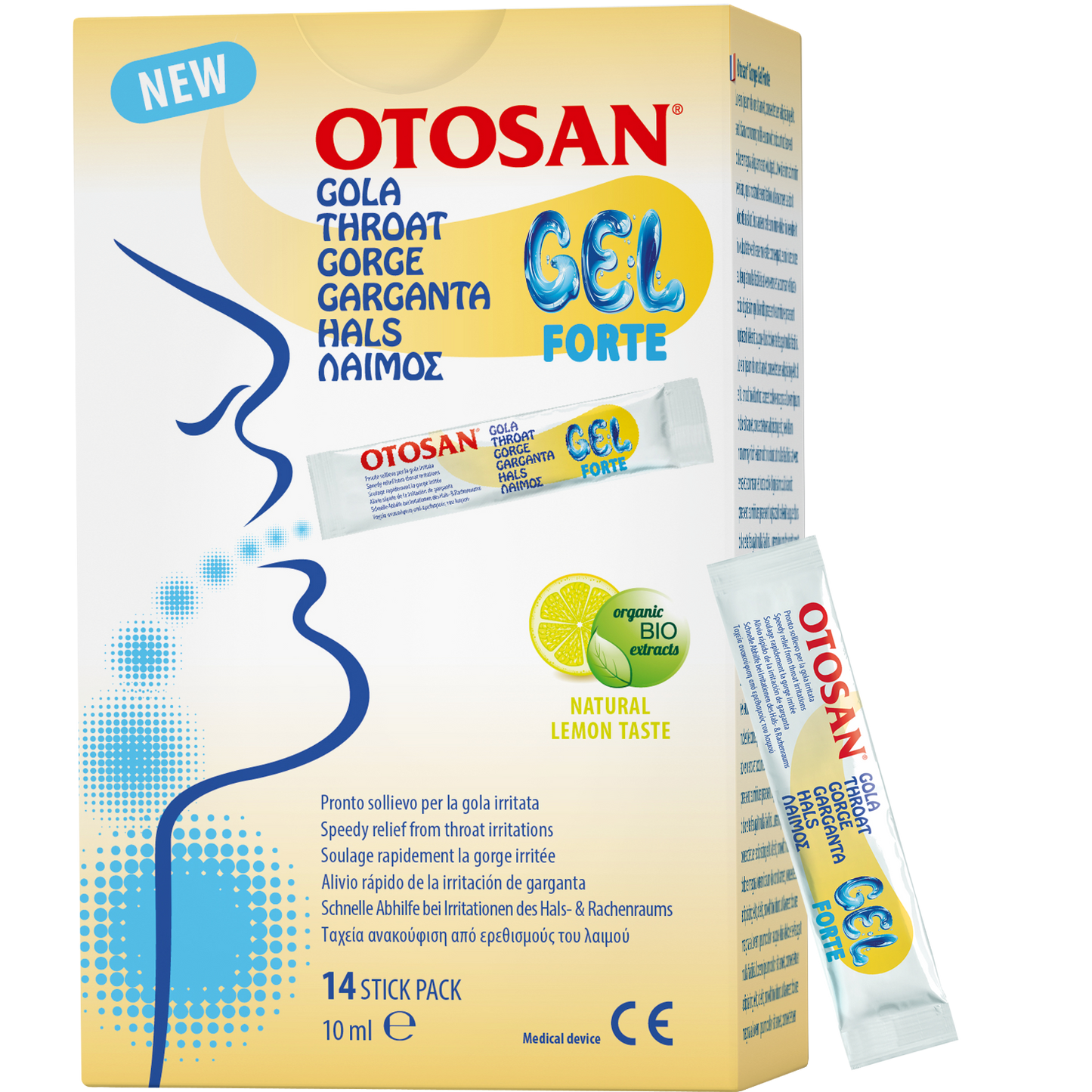 Feel Healthy, Look Healthy