Otosan Ear Drops
Regular price
Sale price
£9.49 GBP
Unit price
per
Sale
Sold out
Otosan Natural Ear drops are made with essential oils and Propolis to help prevent excessive ear wax.
Prepared on the basis of ancient herbalist's recipe and enriched with Propolis, Otosan ear drops are the perfect solution to all ear care troubles. Almond and maize oils, with their emollient power, softer the earwax and improve its removal from the ear canal.
Essential oils, camomile extract and propolis develop a hygienic, soothing and balsamic action which protects your ear and improves its natural physiological defences.
Otosan natural ear drops contain neither preservatives nor dyes and thanks to their natural active principles they can be used by adults and children. Also, people using an external auditory prosthesis since they do not dry the skin and respect the ear's natural sebaceous physiological balance.
Ingredients:
Cajeput oil: Tropical plant with unquestionable hygienic qualities. It helps also keep a good psychosomatic balance.
Geranium oil: Plant originally from Africa with exceptional soothing and calming qualities.
Juniper oil: Obtained by pressing berries, it has balsamic and anti-inflammatory qualities.
Almond oil: Used since ancient times for its extraordinary emollient qualities, it helps keep earwax soft.
Camomile extract: With recognised soothing and calming qualities, it also develops a skin protective action.
Maize oil: Energising emollient with emulsifying qualities.
Propolis extract: Substance produced by bees with extraordinary hygiene and anti-inflammatory qualities.
It is recommended to use the Otosan Natural Ear Drops together with the Otosan Ear Cone. 
In this case, pour the drops, allow them to act for some hours or -even better all night long- then treat the ears with the Otosan Cone.
Directions:
·       Bend your head and pour 3-5 drops of Otosan Natural Ear Drops into the ear.
·       Pay attention not to insert the dropper into the ear!
·       Allow the drops to act for at least 15-20 minutes by holding your head bent or by putting some cotton wool within the ear.
·       Then gently clean the auricle.
·       It is advised to treat both ears at a time.
Use Otosan ear oil once a week to prevent earwax accumulation. Twice per day for 3-4 days to treat wax-plugs. If problem persists, ask for medical advice.
WARNINGS:
 Keep the bottle away from heat sources or direct sunlight. Do not use in case of lesions of the tympanum or the ear canal, otitis or ear inflammations. Keep out of the reach of children. 
Please note: new pack designs will be filtering through in the next few weeks so product packaging may differ.
Share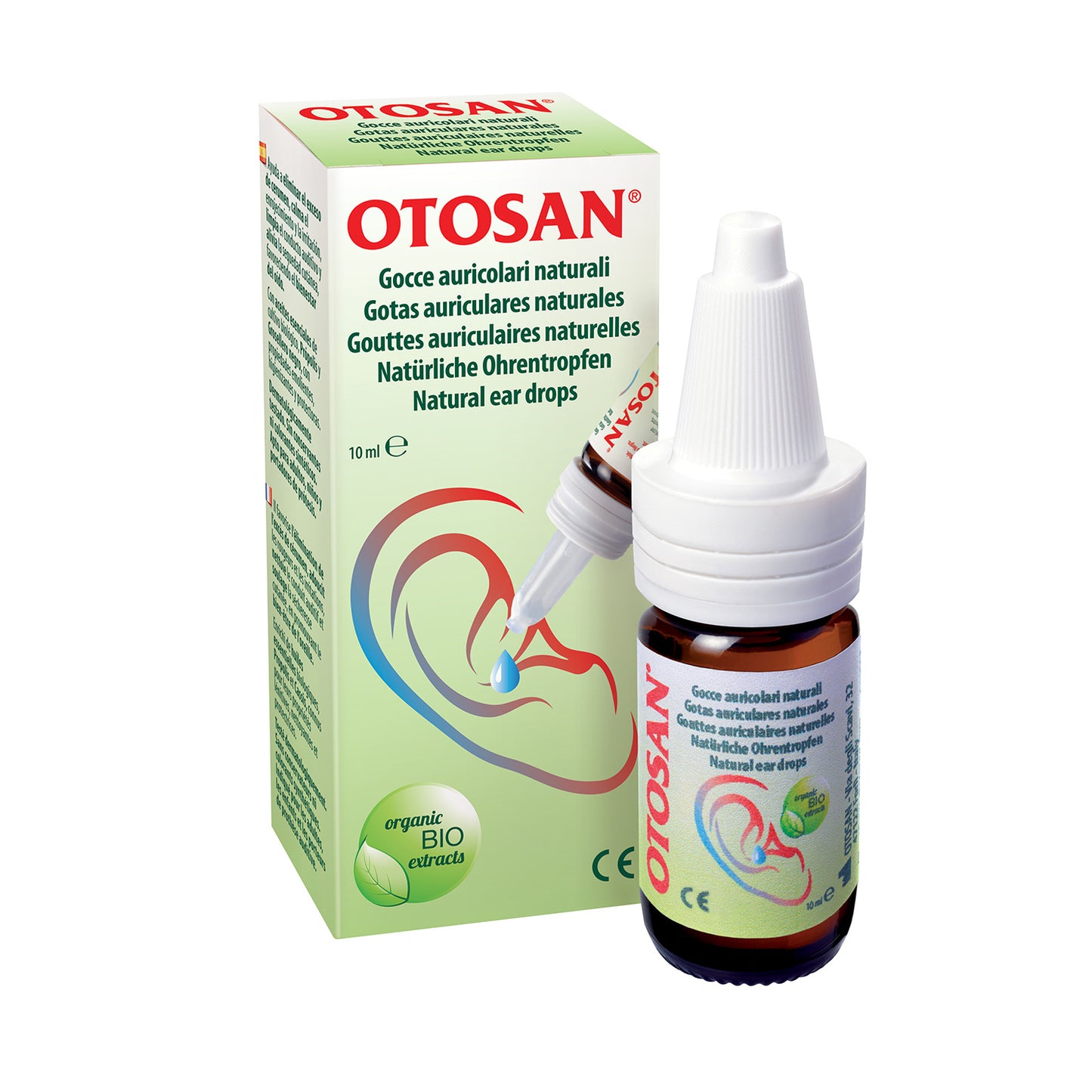 Feel Healthy, Look Healthy