Orthomol Natal
Regular price
£67.99 GBP
Sale price
£51.00 GBP
Unit price
per
Sale
Sold out
Orthomol **Special Offer** 25% OFF
Orthomol Natal
A food supplement for women before, during and after pregnancy.
If you are planning to have a child, it is important to ensure that your body receives an ideal supply of vitamins, trace elements and minerals prior to pregnancy because they have a beneficial effect on fertility. An adequate supply of micronutrients helps to ensure an ideal course of pregnancy, the development of your child, along with your own physical well-being.
Micronutrients are important for regeneration after you have given birth and your child benefits from micronutrients and probiotics through the breast milk.
A daily dosage of Orthomol Natal contains vitamins, minerals, trace elements and antioxidants such as folic acid, iodine, iron, magnesium and calcium, as well as specific omega-3 fatty acids, particularly DHA, plus probiotics.
Product Details
With the omega-3 fatty acid DHA, lactic acid bacteria cultures and Zinc contributing to normal fertility and reproduction.
The uptake of docosahexaenoic acid (DHA) by a mother contributes to normal development of the brain and eyes of their foetus and breastfed infant.
Pregnant and breastfeeding women should note that the positive effect is noticeable with a daily uptake of 200 mg DHA, in addition to the recommended daily dose of omega-3 fatty acids amounting to 250 mg DHA and EPA.
Folic acid contributes to normal maternal tissue growth during pregnancy. Taking additional folic acid as a supplement increases folate levels in pregnant women.
 A low folate level exposes pregnant women to the risk of their foetus developing a neural tube defect. The positive effect is noticeable with a supplementary daily uptake of 400 µg folic acid over a period of at least one month prior to conception and up to three months afterwards.
Benefits of Orthomol Natal:
Iron contributes to normal formation of red blood cells and haemoglobin.

 

Calcium, magnesium, zinc, iron, vitamin D, vitamin B12 and folic acid have a role in the process of cell division.

Vitamin C, vitamin B6, vitamin B12, vitamin D, folic acid, iron, zinc, selenium and copper contribute to the normal function of the immune system.

Calcium is needed for the maintenance of normal bones

 

Vitamin C, vitamin K, vitamin D and also zinc and magnesium contribute to the maintenance of normal bones

 

Vitamin D contributes to normal absorption/utilisation of calcium.

Iodine and selenium contribute to normal thyroid function.

Calcium and magnesium also contribute to normal muscle function

Vitamin C, vitamin B2, vitamin B6, vitamin B12, folic acid, niacin, pantothenic acid and magnesium contribute to the reduction of tiredness and fatigue.

 
Other nutrients: The lactic acid bacteria cultures used in this product consist of defined, live microorganisms. Iron contributes to normal formation of red blood cells and haemoglobin.
Ingredients:
Saccharose, Calcium Lactate Gluconate, Citric Acid (acidifier), Maltodextrin, Dextrose, Fish Oil, Magnesium Hydroxide Carbonate, Magnesium Citrate, Calcium Lactate, Sodium Carbonate (acidity regulator), Starch, Calcium Carbonate, Gelatine, Flavor, Beeswax (filling agent), L-Ascorbic Acid, Glycerol (humectant), Vegetable Oil, Hydroxypropymethyl Cellulose (coating agent), Vitamin E, Nicotinamide, Zinc Gluconate, Calcium-D-Pantothenate, Ferrous Fumarate, Magnesium Salts of Dietary Fatty Acids (anticaking agent), Lactic Acid Bacteria Culture (may contain traces of milk and soy), Pyridoxine Hydrochloride, Thiamin Hydrochloride, Soy Lecithin (emulsifier), Riboflavin, Ferrous Oxide (color), Cupric Sulphate, Beta-Carotene, Folic Acid, Chromium Chloride, Sodium Molybdate, Potassium Iodide, D-Biotin, Sodium Selenate, Phylloquinone, Cyanocobalamin, Cholecalciferol
Warnings
Store in a cool dry place. Keep out of reach of children. Food supplements should not be used to replace a healthy diet and lifestyle.
Composition:
30 daily servings of 14g powder and 3 capsules (1. g) = net weight 468 g 
MG = Milligram
MCG = Microgram
g = Gram
EPA = Eicosapentaenoic acid
DHA = Docosahexaenoic acid
°° IU = International units
°°° alpha-TE= alpha - Tocopherol equivalents
* NE= Niacin equivalents
** NRV = Nutrient reference value according to Regulation (EU) No. 1169/2011
*** No nutrient reference value available
▵ CFU = Colony forming units
Share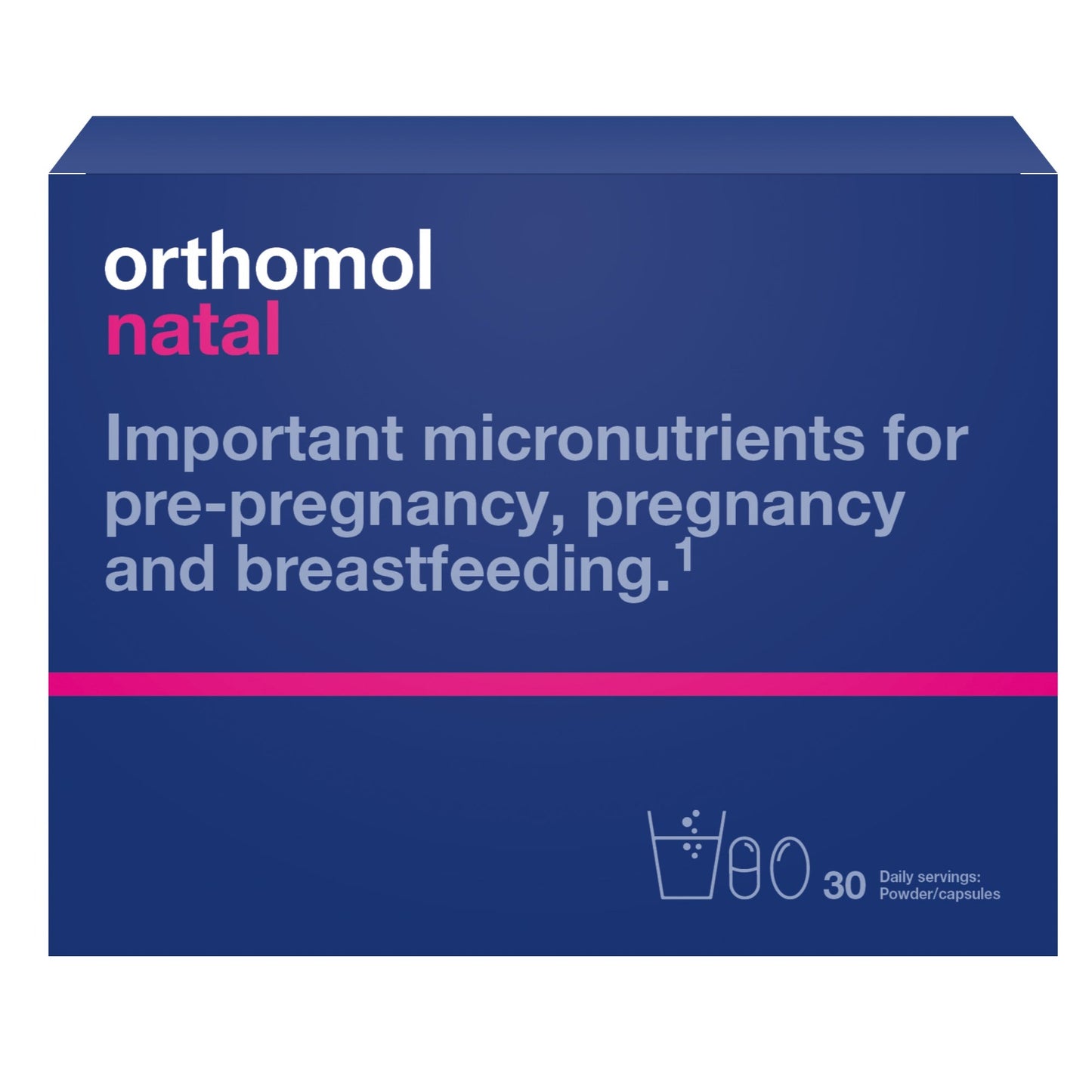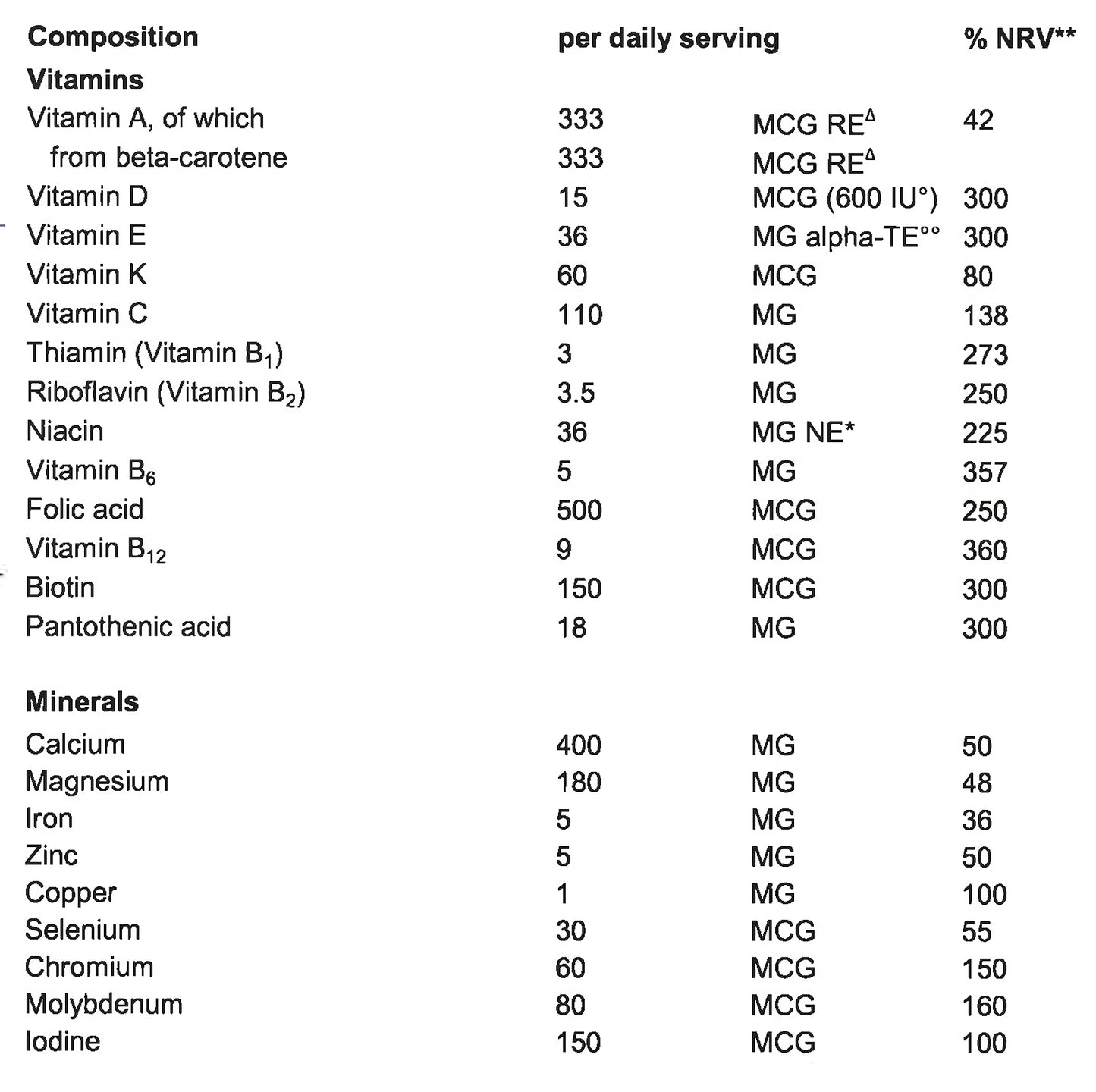 Feel Healthy, Look Healthy